Bristol Henbury Loop service unlikely to reopen until 2018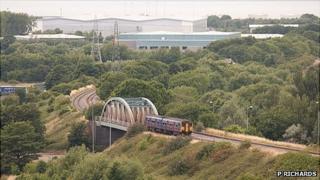 A new rail service through north Bristol's Henbury Loop is unlikely to reopen until 2018, it has been claimed.
Campaigners have been calling for the reinstatement of the line, between Filton and Avonmouth, which closed to passenger traffic in 1964.
Mike Wheeler, from South West Transport Development, said that with a "line there to be used" it was a "no brainer".
Councillor Brian Allinson said it would happen but it was "a case of timing".
At the weekend, First Great Western ran a one-off service on the existing freight tracks for the first time in 50 years.
It was a "practical demonstration" of how the service could become possible in any future metro scheme.
Mr Allinson said although there had "never been any doubt the line would be open to passengers" it was "not going to happen tomorrow".
"What we're concerned about is that until the Filton Airfield development is complete the business case doesn't stand up at this stage," he said.
"It's going to be 2018, 2019 before any real development is there and to spend the money today when money is in very short supply would spoil things for other areas."