Sensory garden to de-stress dogs at Bath animal shelter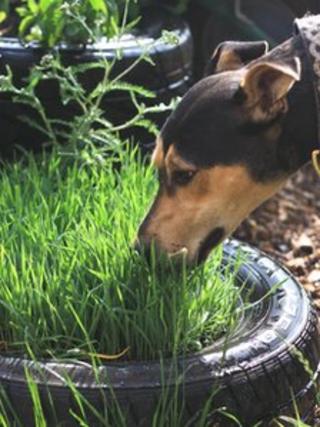 A sensory garden designed to de-stress dogs has been introduced at an animal shelter in Bath.
The new garden at Bath Cats and Dogs Home includes a bamboo forest, bubble machine, caves, ponds and sandpits as well as medicinal plants and herbs.
Steve Hill, from the shelter, said the garden was "all about enriching the lives of our animals and stimulating all of their senses."
It is hoped more relaxed animals will result in a speedier re-homing process.
The charity, established in 1937, is a temporary refuge that helps more than 2,500 animals each year.
'Essential oils'
The new innovative garden, created by volunteers and local businesses, includes more than 20 different textured surfaces for dogs to explore.
It also features a stuffed ball water feature, a mirror with essential oil dispenser and some carefully chosen medicinal plants.
"We get a wide range of dogs in desperate need of help, some of which find it hard to cope in kennels," said Mr Hill.
"The sensory garden is designed to offer something to every dog, to encourage them to become more confident in their surroundings and to reduce stress."