Bristol's Old City weekend road closures extended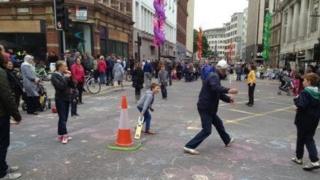 Two roads in Bristol's Old City will remain shut every weekend following the mayor's car-free Sunday initiative.
Corn Street and Small Street will be closed on Saturdays and Sundays as part of a continued drive "to improve the public realm of the Old City".
Mayor George Ferguson brushed off criticism to launch his plan to close several roads across five Sundays, which he has deemed "a huge success".
He is now introducing an Experimental Traffic Order for two of the roads.
'Vibrant atmosphere'
From 10:00-20:00 on Saturdays and 10:00-00:00 on Sundays, Corn Street and Small Street will be shut to all vehicles except bicycles.
This new rule will start from the weekend of 24/25 August.
"Make Sunday's Special has been a huge success, seeing far more people out enjoying the old city," said Mr Ferguson.
"I want this culture of claiming back the streets and really making the most of our wonderful Old City to continue, offering residents and visitors a welcoming, vibrant atmosphere."