South Bristol 20mph zones 'not enforced' by police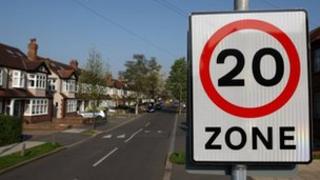 Some 20mph zones in parts of Bristol are not being enforced by Avon and Somerset Police, the BBC has learned.
The limits were introduced in Southville, Bedminster, Lawrence Hill and Eastville in 2010 as part of a pilot scheme to make the streets safer.
But the force has admitted it has not issued any speeding fines in those areas over the last three years.
Bristol City Council is currently consulting on whether to change many central roads in the city to 20mph.
As a result of a Freedom of Information request by the BBC, the force said: "20mph speed restrictions will be treated in the same way as any other speed limit in the Avon and Somerset Police area.
'Taking responsibility'
"Enforcement will not be routine but will be intelligence-led and where there is evidence of clear and excessive offending, accompanied by an aggravating factor.
"Avon and Somerset Constabulary may consider enforcement where appropriate".
The constabulary added that it complied with the guidance issued by the Association of Chief Police Officers (Acpo).
"It was never intended to have a police officer on every street corner," said Mark Bradshaw, the assistant mayor of Bristol.
"This is about drivers taking responsibility for their own speed, looking at their surrounding environment and recognising that in urban areas 30mph is too fast - 20mph or less is a more reasonable, more acceptable speed."
The idea to introduce city-wide 20mph zones was originally proposed in 2010 and claimed it would make the roads less dangerous and encourage walking and cycling.
It was approved by Bristol City Council in July 2012 and will be rolled out across the city by 2015, at a cost of £2.3m which will be funded by local transport budgets.