'Master plan' for Clevedon's Marine Lake restoration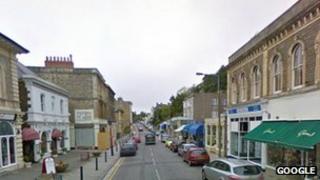 A "master plan" has been drawn up to try to safeguard one of Clevedon's most popular attractions, its owner North Somerset Council says.
Marine Lake opened in 1929 and was once a huge draw for visitors, but fell out of favour when cheap overseas package holidays became popular in the 1960s.
The plan includes a restored promenade, diving boards, bathing huts, paddling pool and strengthened sea wall.
If funding is given, the restoration would be completed by August 2014.
'Victorian glamour'
"If you go down to the seafront on a sunny Sunday, it's packed with people walking past the lake, playing on it, crabbing in it, bathing in it," said Joe Norman from Clevedon Marlens, a group which aims to "bring life" back to the lake.
"It's very popular, at the moment it's very tatty and has very little facilities.
"We plan to bring some 'zip' back in by providing deckchairs and the old changing cubicles, just to bring back a little bit of the Victorian glamour that was around the lake."
The council said the plan will form a "key part" of an application to the Heritage Lottery Fund for money to renovate the lake.
Round one approval was given in September 2012. The round two application will be submitted in the middle of November, with a decision being made in early March.
"We need to get as much community support behind us as we can and would welcome any views on plans for the future of the lake," said councillor Peter Bryant, executive member with responsibility for open spaces.
"The lake was once a focal point in the town and the lottery bid aims to recreate this facility so it is fit for the leisure needs of the 21st Century."
In 2004, a community partnership was established and since then the lake has been used for sailing, canoeing, open water swimming and model boat sailing.