Letter claiming subterranean mining rights 'crazy'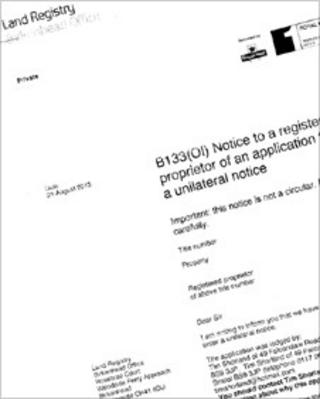 A councillor has criticised a decision to send letters to thousands of residents over a subterranean land claim in Bristol.
Some 4,000 Land Registry "manorial rights" notices were sent to Patchway residents outlining Lord of the Manor Tim Shorland's rights to mine there.
Keith Cranney said they had caused distress and anxiety for homeowners.
Mr Shorland said he had no intention to mine, adding the letters were a "crazy" Land Registry administrative move.
A Land Registry spokesman said the body had a "statutory obligation to issue notices when a third party has submitted an application to register manorial rights as Mr Shorland has done".
Mr Shorland bought the Lord of the Manor title 25 years ago for £7,500. Collecting the titles is a hobby on which he had spent more than £200,000.
He told the BBC there was "no money" in the land and he was only "protecting" it.
Mr Shorland said he had registered his rights to comply with the Land Registration Act 2002.
The legislation states that people with manorial rights must lodge them with the Land Registry before October 2013 - or face losing them.
Mr Shorland said the letter, which was sent without his knowledge, had left some residents "really angry" on the phone as they sought to find out what it meant.
The information sent by the Land Registry said the claim was an "application to enter a unilateral notice" and further explained that Mr Shorland "believes he has the benefit of an interest in a particular property".
Old people crying
"The people that got it aren't solicitors. It's so crazy it's untrue," he said.
"I was putting the phone down and it was ringing again for the first five days. I've had to go out to some old people who have been crying on the phone."
The Land Registry spokesman said the letters were sent with explanatory notes but could not be simplified too much.
"We do explain the legal terms involved. We have to be careful that we don't offer legal advice," he said.
Local councillor Keith Cranney said the notices had "caused a significant amount of distress and anxiety to local elderly residents".
South Gloucestershire Council added: "We understand that Mr Shorland is laying claim to various rights associated with his title Lord of the Manor of Hempton and Northwick.
"We are currently investigating these claims."