Stowey Quarry landfill owner may alter hazardous waste plan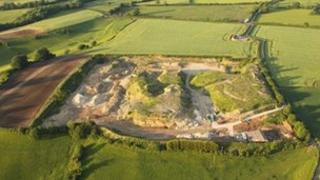 The owners of a planned landfill site for hazardous material could change their plan to store safer material.
A planning application was turned down last November for rubbish to be left at Stowey Quarry in Somerset.
At a planning inquiry, an inspector has said he would be willing to allow Oaktree Environments to alter its plans so it just stores non-hazardous waste.
Some 4,000 people petitioned against the original plans, which included storing some types of asbestos.
The altered plans still include storing asbestos and other items such as inert gas.
Campaigners are concerned that dumping at the quarry could affect water supplies.
The public inquiry is due to run for three days. The planning inspector will have the final say over the scheme.