Gromit charity art trail in Bristol attracts 200,000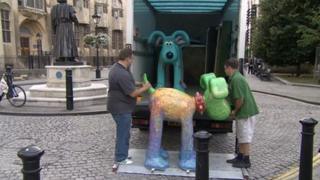 More than 200,000 people collected a map to take part in the Gromit Unleashed arts trail in Bristol.
The 80 statues, decorated by well-known celebrities and artists, were being removed earlier having been on display since the end of June.
They will be auctioned off on 3 October to raise money for charity and will be displayed in Clifton later this month.
More than £20,000 has already been raised for Wallace & Gromit's Grand Appeal by people downloading the app.
A total of 630 people completed the entire art trail and 3,000 visited more than half of the sculptures.
While the majority of the sculptures were based around Bristol, there were others at London Paddington station, Westonbirt Arboretum in Gloucestershire, Cheddar Gorge in Somerset and Hawkesbury Upton, South Gloucestershire.
'Increase in footfall'
The trail attracted visitors from Japan, Taiwan, the United States, Canada, Abu Dhabi, Brazil, Australia, Netherlands, Spain, France, Italy and Germany.
More than 100,000 people visited The Art of Gromit Unleashed shop, on Upper Maudlin Street, which saw queues of people waiting three and a half hours to get in on the penultimate Saturday of the arts trail.
Key tourist attractions and passport stops on the trail that were home to a giant Gromit sculpture reported an increase in footfall.
M Shed and Bristol Museum and Art Gallery approximately doubled their visitor numbers during July and August with 192,210 extra visitors combined compared to 2012.
Nicola Masters, director of The Grand Appeal, said: "When we started this journey, it's fair to say that we didn't anticipate it would become as big as it has; the undeniable enthusiasm for the Gromit Unleashed sculptures has exceeded all of our expectations.
"We're delighted that the Gromits have kept people entertained over the summer, but of course behind all the fun, there's a serious cause, to raise as much money as possible for Bristol children's hospital."
Before the auction, there will be a chance to see all the sculptures together at the Royal West of England Academy in Clifton, Bristol, from 18 to 22 September.