First Bus smartcards in Bristol area 'to start in 2014'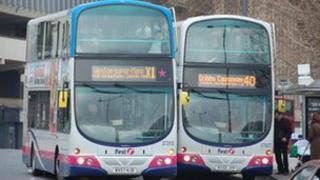 Smartcards for bus passengers in Bristol could be rolled out across the First Bus network by the start of next year, the city council said.
Director of transport Peter Mann made the claim at a meeting on Tuesday after councillors expressed their concern about years of waiting.
He claimed there had "been a level of embarrassment" in First Bus that "they were behind the curve".
First Bus is yet to comment on the roll-out of a smartcard.
The company has been considering smartcards since 2008 when the firm's managing director for Bristol, Justin Davies, said it "was the right way to go".
The ticketing scheme would be similar to the Oyster cards used in London which allow commuters to pay for travel across different modes of transport in the capital.