Simon Tandy, 48, jailed for four years for firearms offences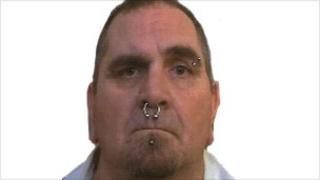 A man who was shot in his wheelchair by police called to a "domestic incident" has been jailed for four years.
When officers arrived at Simon Tandy's home in Keynsham, near Bristol, he threatened them with his legally-owned air rifle, Bristol Crown Court heard.
Tandy, 48, who admitted two firearms offences, was shot with a baton round and then with a live round to his leg.
The judge praised the "professional, cool and brave" police gunman who shot Tandy during the incident in May.
'Agonising decision'
The court was told the unloaded air rifle was pointed at armed officers and "dry discharged" several times.
It had been bought to shoot rabbits and Tandy, of Minsmere Road, owned a licence for it, the court heard.
Addressing Tandy, Recorder Ignatius Hughes QC said he accepted it was "not a premeditated act".
He said the police officer who fired the live round had had to make an "agonising decision".
"It is clear the police officer felt in mortal danger," he said.
"It was professional, cool and brave [of him] to have fired a shot which didn't permanently disable you further."
Tandy was sentenced to two years for possession of a firearm with intent to cause fear of violence and four for possession of a firearm with intent to resist arrest. Both sentences will run concurrently.
He admitted the offences at a hearing last month.