Patchway Lord of the Manor Tim Shorland drops mining rights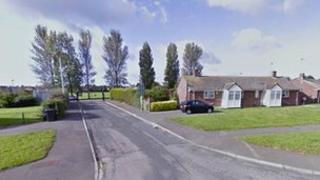 A man has said the negative reaction to letters claiming his subterranean mining rights in part of Bristol has led him to withdraw his claim.
Some 4,000 Land Registry "manorial rights" notices were sent to Patchway residents outlining Lord of the Manor Tim Shorland's rights to mine there.
But Mr Shorland, who bought the title, said he never had any intention to mine and the letters sent were a "crazy" Land Registry administrative move.
He said the outcry "shocked him silly".
Since the letters were sent out he said he received constant phone calls from concerned residents including "some old people who have been crying on the phone".
A Land Registry spokesperson confirmed Mr Shorland, who does not live in Patchway, had withdrawn his claim.
The body said it had a "statutory obligation to issue notices when a third party has submitted an application to register manorial rights as Mr Shorland has done".
Mr Shorland bought the Patchway Lord of the Manor title 25 years ago for £7,500.
He said he collected titles as a hobby and had so far spent more than £200,000 on them.
He told the BBC there was "no money" in the land and he was only "protecting" it.
Mr Shorland said he had registered his rights to comply with the Land Registration Act 2002.
The legislation states that people with manorial rights must lodge them with the Land Registry before October 2013 - or face losing them.
Mr Shorland said since withdrawing his claim, he did not want to make any further comment on the matter.