Gromit exhibition in Bristol will not be extended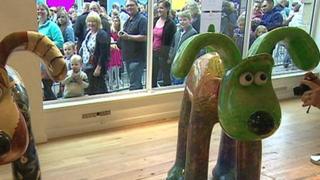 An exhibition of 81 Gromit statues in Bristol will not be extended despite extraordinary demand to see them, organisers have said.
Huge queues of Wallace and Gromit fans waited up to eight hours outside the venue in Queen's Road at the weekend.
The show, due to close on Sunday, has already been extended until Monday.
But Nicola Masters, from the Grand Appeal, said the Gromits are due to be auctioned on 3 October and organisers "can't postpone it at this late stage".
'TLC needed'
The statues of Aardman Animation's much-loved canine creation, decorated by well-known celebrities and artists, made up an arts trail in and around the city in the summer.
But the queue to see all the statues under one roof had to be closed to new joiners on Saturday for a few hours when organisers realised nearly 3,000 people were outside.
"We had about 9,000 to 10,000 people over the weekend but we've never turned anyone away who had actually been queuing," said Miss Masters.
"And we've been doing everything we possibly can to get people through the exhibition.
"We moved into a larger venue four days before the exhibition, we've extended the opening hours - officially and unofficially - and we've been opening early and closing late."
The statues are due to be auctioned on 3 October to raise money for Bristol's Children's Hospital.
But, according to Miss Masters, they will need some "tidying up, TLC and a little bit of work" before going under the hammer.
"We've been planning the auction for two years and there's a lot of planning gone into it," she added.
"And we've got people coming from all over the world and obviously we can't change it, delay it or postpone it at this late stage."
The exhibition is due to remain open until 20:00 BST. The approximate waiting time at 11:30 on Monday was between 60 and 90 minutes.