Cocktails welcome curious at St Paul's Church in Weston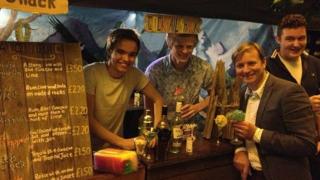 A vicar in Weston-super-Mare set up a cocktail bar among the pews to welcome new people to his congregation.
The Reverend Andrew Alden, 47, of St Paul's church, said the beach theme and cocktail shack was created for his church's Alpha programme.
It introduces the basics of Christianity to non-church goers over 10 informal sessions.
A licence to sell alcohol was granted by North Somerset Council and the church council gave its blessing.
The church was decorated with surf boards and a range of alcoholic and non-alcoholic drinks were served.
"It's a creative way of exploring the claims of Jesus and we wanted an environment where we could invite friends," said Mr Alden.
Twitter Vicar
"It did raise a few eyebrows but the congregation here is very positive and has a very can-do attitude."
Mr Alden made headlines previously when he was dubbed the Twitter Vicar by newspapers after encouraging his congregation to tweet comments about his sermons.
'I think they've (church council) got to the stage with me that they wouldn't be surprised at anything," he said.
"I use Twitter, Facebook and other social media extensively and I think to reach a contemporary society with what is a brilliant message you have to use contemporary means."
The surf theme with cocktail bar has now been taken down but Mr Alden said would "almost certainly be coming back".