Couple given Bristol bus stop sign as meeting memento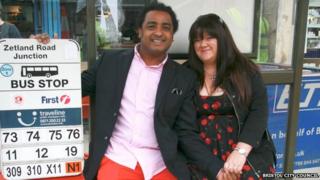 A married couple who found love at a Bristol bus stop have been given part of it as a memento of how they met.
Aly Hussein, 41, introduced himself to future wife Michala, 40, at the Zetland Road Junction stop eight years ago after seeing her waiting for a bus.
The pair, who married three years ago, have been given the bus stop sign and seat by Bristol City Council as it is being replaced.
Mr Hussein said he liked having "a little bit of our history forever".
A friend of the couple contacted the council after hearing that the stop on Gloucester Road was to be replaced.
The council agreed for a part of it to be handed over because of its significance to the pair.
Same time, same place
Mr Hussein first spotted his wife eight years ago as she waited for her bus after leaving her job in a nearby flower shop.
"Every day I used to see her at the same time in the same place and really wanted to get to know her, so one day I took the opportunity to say hello," he said.
"Our daily chats led to me asking her out properly.
"We've now been married for three years, but I'll never forget how we met and it's wonderful that we can keep a little bit of our history forever."
The bus stop is due to be replaced as part of a £30,000 improvement scheme.