Engineers begin work on broken lift at retirement home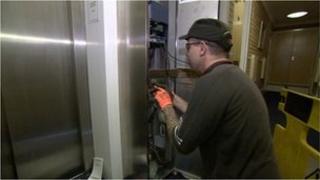 Engineers have started repairing a lift at a retirement complex which has been out of order for five weeks, "trapping" some elderly people in their flats.
Residents who are too frail or ill to use the stairs have been stuck in their homes Ferndown Grange, near Henleaze, Bristol, since August.
Peverel Retirement, the company responsible for maintenance, has not directly commented on the repairs.
It said a part needed had become obsolete and had to be made in Italy.
The company has previously apologised and said it would look at compensating people who had been affected.
'So pleased'
Spokeswoman Margaret Waters said the lift was not old and was "regularly serviced".
Judy Ross, a resident who lives on the second floor of the complex, said she was pleased the work was being carried out.
"I am so pleased for the people who are trapped, because their health has deteriorated so much.
"I have watched them go down. It is just ridiculous."
Ms Ross, 78, has rheumatoid arthritis but has been able to manage the stairs.
She has been helping those who cannot leave their flats by taking their shopping up to them.
A Schindler engineer told the BBC the repairs were "moving along", although he was not sure how long it would be until the lift was fixed.