Bristol City Council spending criticised by its own auditor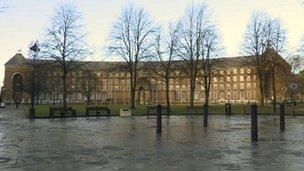 An audit into finances at Bristol City Council has shown bills being paid twice and mismanagement over how contracts were awarded.
Auditor Alison Mullis said the "level of risk" within the council's financial control system was "of concern".
The report also highlighted a "significant number of fraud referrals" between April and June.
The council said it would "dramatically improve its financial processes" and would "fully investigate" any concerns.
Councillor Geoff Gollop said the council had recently put a new financial management system in place as it had "recognised the limitations of our old system which had become outdated".
He said he was confident that openness and honesty was "encouraging people to blow the whistle when they're concerned about something".
"We can't always stop rules being broken, but we're managing the risks and taking clear action when things go wrong."
Eleanor McGrath, from the Taxpayers Alliance, said the authority did not go "into any detail about what they are doing to address this issue of non-compliance with procurement contracts".
Some of the contracts were "clearly bad value for taxpayers' money", she said.
Related Internet Links
The BBC is not responsible for the content of external sites.