Killed schoolgirl skier Jemima Prees lost control, inquest hears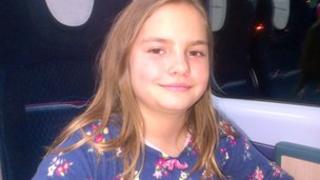 A schoolgirl was killed skiing when she suddenly lost control on a slope in Austria and hit her head on a tree, an inquest has heard.
Ten-year-old Jemima Prees from Colerne, Wiltshire, suffered a brain injury and a spinal rupture on the slopes of the Mayrhofen resort in February.
Jemima, who was on a family holiday, had been skiing since the age of four, the coroner's court heard.
Coroner Claire Balysz recorded a verdict of accidental death.
Jemima, who was wearing a helmet, had been skiing with her older brother Barney, 19, and her father Tim on 11 February, the inquest was told.
The family had been down both red and black runs and at the end of a three-hour ski day were descending as a group.
In a statement, Mr Prees told the hearing that it had become icy on the slope as the family made the descent.
'Did not react'
"Jemima suddenly skied straight past me," he said.
"I yelled 'turn in, turn in' but she went straight ahead and did not react. She went straight down to the edge of the piste."
Mr Prees said he and his son "went after her" and found her lying at the foot of a tree unconscious.
Barney Prees said in his statement that his sister seemed to have "suddenly lost control of her skis".
In the hearing Mr Prees added that his son carried out mouth-to-mouth resuscitation and heart massage for 40 minutes while they waited for the emergency services.
"As a result of that four children in Europe benefited from Jemima's organs," Mr Prees said.
Jemima was airlifted to a hospital in Innsbruck but died later, the hearing was told.
Recording a verdict of accidental death, Ms Balysz said it was difficult to know exactly what happened but it appeared Jemima had hit an icy patch, lost control and hit her head on a tree.