Canadian student Garrett Elsey's waste lorry crush death was accident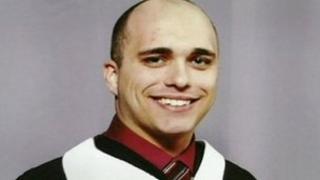 Hypothermia may have caused a Canadian student to decide to sleep in a wheelie bin which was later dumped in a waste lorry crushing him to death.
Postgraduate Garrett Elsey, 22, was on his first night out in Bristol when he got drunk and climbed into the bin.
His body was later found at a recycling plant in Avonmouth, his inquest heard.
Recording an accidental death verdict, the coroner was told hypothermia can cause confusion which could explain why Mr Elsey climbed into the bin.
Flax Bourton Coroners' Court was told Mr Elsey suffocated when his head and chest were compressed.
The student had recently finished an undergraduate degree in Ottawa and had arrived in Bristol in September 2012 just a day before his death.
He was due to begin a MSc in International Security in the School of Sociology, Politics and International Studies at Bristol University.
The court heard he had been drinking in the Mbargo nightclub on Clifton Triangle on his first night out in the city on 27 Sept 2012.
He became so drunk he was asked to leave the nightclub at about 01:00 BST.
A pathologist confirmed Mr Elsey had high levels of alcohol in his body and it was possible that he was suffering from hypothermia.
She said people with hypothermia can often become very confused and make "strange decisions" which may have led to his decision to climb into the bin.