Bristol Plimsoll swing bridge repair tests are carried out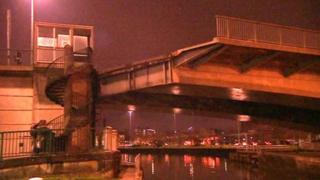 Tests are being carried out on repairs to a swing bridge in Bristol which became jammed open last month.
The Plimsoll Bridge over the Cumberland Basin broke after opening on 18 December and could not be shut, which led to traffic chaos.
A Bristol City Council spokesman said replacement parts, which had to be specially made, had now been fitted.
He added that "extensive testing and bridge swings" were being carried out on Sunday morning.
After the bridge became jammed last month it was cranked back into place by hand but has since been stuck closed.