Bristol Parkway: Residents angry over size of new car park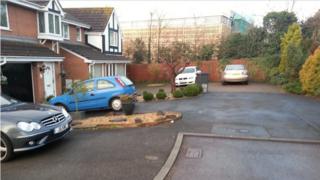 People living beside a new multi-storey car park at Bristol Parkway railway station say it is too big and will create extra noise and light from cars.
The £13m 700-space car park is due to open in April and operator First Great Western says it will stop rail passengers parking on nearby streets.
However, people living next to the building in Stoke Gifford say they were not consulted about its size.
Land owner Network Rail did not need planning permission to build it.
The structure has been built on the site of the former car park, so the company was within its permitted development rights for the area.
'Duty of care'
Anita English, whose house in Brins Close is adjacent to the building, said she felt "stressed" about the situation and said residents had not been consulted about the size of the car park.
"Also we don't know what to expect when it opens with the cars going in and out and with the lighting and the omissions," she said.
Fellow resident Kevin Cook said he felt the "duty of care" residents had received from First Great Western had been "ropey".
A First Great Western spokesman said: "We have been consulting on a regular basis since the very beginning of this.
"If that has not touched these residents then I'm very sorry.
"But this will take a lot of cars off the relatively small roads in Stoke Gifford and put them where they should be."