HorseWorld visitor centre closure economic 'necessity'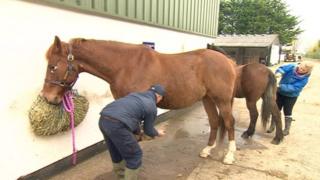 An animal rescue charity has said its visitor centre closure was an economic necessity and its "number one priority" remained the care of its horses.
HorseWorld closed its Bristol visitor centre on Friday due to "plummeting voluntary donations" and the rising numbers of horses in need.
It said it needed to focus its efforts on the welfare of its 400 horses.
But a group of volunteers who had raised more than £15,000 said they felt they had been "ignored" by the charity.
In an open letter the Friends of HorseWorld said there has been an "irretrievable breach of trust" between themselves and the charity's managers and trustees and that their questions remained unanswered.
'Twenty-five-year commitment'
"Many of us have been involved with the charity for over 20 years," the group said.
"Last year we had over 70,000 visitors - how can this be financially insolvent when it is so popular and very well supported?" they added.
Mark Owen, managing director of the HorseWorld Trust, said he was "deeply saddened" the visitor centre had to close.
"Unfortunately it has become uneconomic to run in its current form and our number one priority remains for the care of our horses.
"When we rescue a young horse, we are taking on a 25-year commitment and therefore we must focus our efforts and future finances on the welfare of the 400 horses we are currently responsible for and the new rescues which sadly keep coming in.
"We would also like to thank all of our amazing staff for their dedication over a great many years," he added.
The charity previously said it needed to redevelop its visitor centre but this had to be funded by an "enabling development" of housing on the existing visitor centre site, with the sale proceeds used to construct a new visitor centre on adjacent land.
'Anonymous complaints'
But Bath and North East Somerset Council rejected the proposals - which led to the trustees having to look at all the options for saving money.
The regulator for charities, the Charity Commission, confirmed it had received four complaints against HorseWorld, three of which were anonymous.
"There was no evidence of any cause for regulatory concern, but we took the step of writing to the trustees to ask for their views on the charity's future financial viability," a commission spokeswoman said.
"The trustees have since responded and have clarified that, in their view, the charity is being subjected to unsubstantiated allegations.
"The trustees have made us aware that they are now considering alternative solutions and options relating to the visitors' centre," she added.