Bristol NHS branded 'disgusting' over heart surgery issues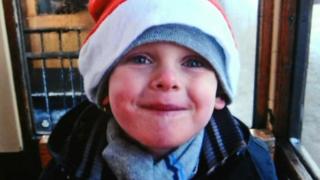 The mother of a boy who died after heart surgery in Bristol has said continuing NHS issues are "disgusting".
Luke Jenkins' parents have recently discovered his death was not correctly recorded in official figures submitted by the Bristol Children's Hospital.
They complained to the medical director of the NHS and a personal reply email admitted there had been a data error.
Bristol's NHS trust said it was unaware how the error had occurred but it would ensure it would not happen again.
It has now been corrected with the trust highlighting the hospital's 30-day mortality rate for the Fontan procedure - a type of heart surgery - "remains entirely within the expected range."
Seven-year-old Luke, from Cardiff, suffered cardiac arrest and died following heart surgery in March 2012. He had been expected to make a full recovery.
For that year the original statistics held by NICOR - the National Institute for Cardiovascular Outcomes Research - incorrectly suggested there were no deaths of children who had Luke's same heart operation.
The death rate statistics are crucial to the NHS as they highlight potential dangers around surgical units.
Faye Valentine, Luke Jenkin's mother, said: "This is the last thing we need. To keep having to prove what they're doing is wrong - they should be recognising their own mistakes.
"It's not for us to be pointing out where they've gone wrong. They shouldn't be putting us through this.
"They've put us through enough taking Luke, and to put us through extra stuff as well which isn't needed is pretty disgusting."
NICOR said a "detailed chronological investigation dating back to 2012" was under way to explore why the error had occurred.
Bristol University Hospitals NHS Foundation Trust said: "We take the recording and monitoring of mortality data very seriously.
"From our own initial investigations it has not been possible to fully determine how this error occurred.
"As such we have suggested that a joint investigation is carried out, involving both NICOR and the Office for National Statistics, who provide data to NICOR, to establish how this error occurred and to ensure that stringent measures are in place to prevent a recurrence."
Last month Prof Sir Bruce Keogh, medical director of the NHS, announced an inquiry would be held into the deaths of children following heart surgery at Bristol Children's Hospital.
A number of families had met with him to share their concerns about the care received by their children in the hospital.