Jean Taylor Totterdown attack: Pubs raise £800 for victim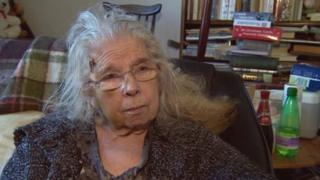 A Bristol community has collected £800 to help a 76-year-old retired teacher who was beaten and left for dead.
Jean Taylor was followed her into her home in Totterdown by a man who hit her round the head before stealing £100 from her purse on 28 January.
Miss Taylor, known to friends as Jennie, was presented with a cheque for the money which was collected from customers at four nearby pubs.
She said she "hadn't expected all this fuss" after her attack.
"I'm surprised and very touched about it - I could have a good cry sometimes - people have been so good.
"I want to get back to normal and don't want to spend all my life in a prison which is what the house begins once you're lock in," she said.
Reward offered
Last month police released images of Miss Taylor's injuries in the hope that someone who knows the attacker would come forward.
A £3,000 reward for information leading to the arrest and conviction has also been offered by the charity Crimestoppers.
Avon and Somerset Police have released a CCTV still of a man seen in Green Street at the time of the attack.
He is described as 5ft 10in tall, medium build, clean-shaven - aged in his late 30s or early 40s - and possibly wearing a green/grey hooded top, a baseball cap, faded blue jeans and dark shoes.