Neil Edgell jailed for counterfeit car accessories scam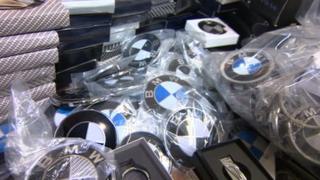 A man who ran a scam operation selling counterfeit car parts on the internet has been jailed for 20 months.
Neil Edgell, from Oldland Common near Bristol, admitted conning drivers into buying fake accessories for luxury cars like BMW, Mercedes and Porsche.
He also admitted to benefit fraud of £46,000.
Sentencing him at Bristol Crown Court, Recorder Adrian Palmer QC said his crimes were "serious offences of dishonesty".
He added: "And you continued offending even after the authorities raided your home."
The court heard Edgell was thought to have made more than £400,000 from the scam. He had sold 20,000 items before he was caught by trading standards officers from South Gloucestershire Council.
Investigation tip-off
When trading standards officers raided his home in March 2012, they found fake car accessories including horn caps, badges, handbrake covers and radiator grills which Edgell had bought in Taiwan.
Edgell sold imitation BMW horn caps for £16 each but they had probably cost him about two pence, trading standards said. A genuine horn cap from BMW in the UK would cost about £30.
South Gloucestershire Trading Standards said they found out about the fraud through a tip-off.
Trading standards officer Neil Derrick said: "A counterfeit investigator for BMW did a test purchase from him, assessed the items were counterfeit and brought it to our attention.
"And we took on the investigation from there."
Neil Edgell pleaded guilty to 27 charges of counterfeiting.
His wife Hannah Edgell, 31, was sentenced to eight months, suspended for two years, after pleading guilty to benefit fraud. She was ordered to pay costs of £2,300.