Bristol's Ujima Radio off-air over power dispute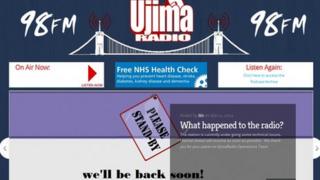 Live broadcasts from a community radio station in Bristol have stopped after power to its studios was cut off.
Ujima Radio said the "vital community service" was forced off-air on Tuesday when the energy supplies were cut owing to landlords not paying the bills.
Radio station chair Roger Griffith said it was "out of their control".
Leaseholders Ceed claimed Ujima's rent did not cover the amount of electricity the station used and hoped it would be restored by Monday.
Ujima Radio is based in a council-owned building in Wilder Street, which is let out to Ceed.
Bristol mayor George Ferguson said he was "asking for an urgent report" into the situation at the station.
The power was switched off on Tuesday at 13:00 GMT after supplier Utility Warehouse issued a court order for non-payment of bills.
Landlord 'not paid'
Mr Griffith said Ujima Radio was fully up to date with all rent and rate payments and was planning a peaceful demonstration on Friday.
Joseph Gomwalk, of Ceed, said: "We are in contact with Utility Warehouse to sort out payment and we hope the power will be back on by Monday."
Utility Warehouse said: "Unfortunately, the landlord has not paid for any of the electricity used in his entire building for a considerable time.
"We sympathise wholeheartedly with Ujima Radio and their listeners, but their dispute is with the landlord, not ourselves."
Ujima Radio is licensed by Ofcom and is run by more than 130 volunteers. It broadcasts music and talk shows and has between 19,000 and 24,000 listeners.
An Ofcom spokeswoman said Ujima Radio has alerted it of the situation.
"We are considering the appropriate next steps," she added.