Portway's 'Bristoland' sign changed to read 'It's Bland'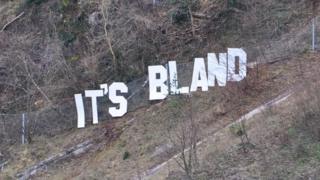 A Bristol version of the Hollywood sign that appeared in the Avon Gorge has been changed to read "It's Bland".
The "Bristoland" sign appeared opposite a main route into the city, the Portway, in January.
It is not known whether its creator, who remains anonymous, has anything to do with the recent changes.
But the organisers of arts festival Upfest, which first brought the sign to public attention, said they were confident it would be changed back.
Upfest was anonymously sent a group of images showing the 8ft (2.4m) sign at the end of January.
Spokesman Stephen Hayles said he was impressed with the effort put into the re-wording.
"Fair play to them for getting up there and changing it," he said.
"And they used the letters, they must have sat up there for ages thinking what can we make out of it."
Since the sign was rearranged, Bristol Mayor George Ferguson has said it would be "good to have it back as Bristoland".
'More permanent' sign
And Mr Hayles said there were plans to make it a "more permanent" feature.
"The National Trust, which owns the land, hasn't asked for it to be removed," he said.
"And the Mayor of Bristol said he loved it and supported the idea of making it a more sturdy sign.
"So I'm pretty confident it will be changed back."
"Bristoland" is based on the iconic Hollywood sign, which was unveiled in 1923 and originally spelt out "Hollywoodland" to advertise a housing development.