Teacher Kelly Ann-Marie Burgess admits sex offences against boy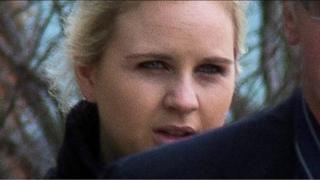 A 26-year-old teacher has pleaded guilty to four sexual offences against a schoolboy aged between 13 and 17.
Kelly Ann-Marie Burgess of Newport admitted abusing her position of trust when she appeared at North Somerset Magistrates' Court.
The offences came to light when the boy visited a sexual health clinic and told the nurse he was or had been in a sexual relationship with a teacher.
Burgess is due to appear at Bristol Crown Court on 7 April for sentencing.
Michael Collins, for the prosecution, told the court the nurse explained she had concerns about the boy's revelations and he left the room returning with Burgess who gave a false name.
'Don't be scared'
A police investigation began and Burgess was arrested on 28 August.
During a search of her home her mobile phone was checked and police found a message from the boy.
It read: "Got the police round. Don't text back, don't be scared.
"Just get the story straight for when they come for you."
After initially denying she was involved with the boy, Burgess later admitted to being in a relationship with him between 1 January and 28 August 2013.
"She stated she wasn't aware there was anything illegal because, as far as she was concerned, he had reached the age of consent," said Mr Collins.
Sue Cameron, representing Burgess said there are "mitigating factors I won't go into today" and did not oppose the case going to crown court for sentencing.
Burgess has been suspended from the school where she teaches.