Bristol garden's WW1 German battleship bell sells for £5,000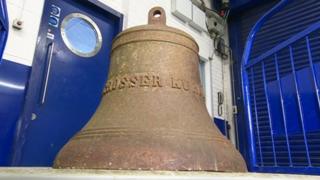 The bell from a World War One German battleship has sold for £5,000 at auction after 70 years of being used as a garden ornament.
It belonged to the SMS Grosser Kurfurst which was one of several ships that bombarded Hartlepool on 16 December 1914, leaving 119 civilians dead.
The ship was sunk after the war but was raised for scrap in 1938 and a Bristol man bought the 22-inch bell.
It has been in his family ever since and was found in a bush.
'Curious life'
The bell was bought by the National Museum of the Royal Navy, Portsmouth Historic Dockyard.
Dr Dominic Tweddle, director general of the museum, said: "It's had quite a curious life.
"Many of the wrecks raised after the First World War were broken up for scrap and this bell unusually has survived - it's come through quite well after 70 years in somebody's garden."
The museum plans to conserve the bell before placing it on public display.
Auctioneer Stephen Booth, from Atlantic Crossing Auctions in Southampton, added: "It was quite a staggering find. We actually went to the client on a call for some ship's furniture that her grandfather had purchased at a scrap yard in Scotland, back in 1938.
"While he was there... he wandered round the yard and bought the bell at the same time."
Mr Booth and a colleague took 20 minutes to dig the bell out.
"We were extremely excited when I saw the name on side," he said.
The SMS Grosser Kurfurst survived the bombardments of the east coast in 1914 and went on to fight in the Battle of Jutland off Denmark in 1916 before heading to the Baltic in 1917.
When the Germans surrendered in 1918, the German fleet sailed to Scapa Flow in the Outer Hebrides.
In June 1919 the Germans scuttled the majority of the ships in the fleet.