Frenchay Hospital medical records 'found in street' in Cardiff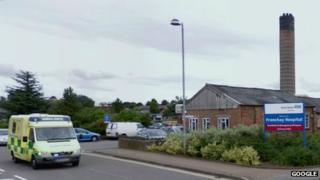 Patient records from Frenchay Hospital in Bristol have been found in a street in Cardiff.
North Bristol NHS Trust said it did not know how papers containing the personal information of patients ended up in the centre of a city 40 miles away.
Chief Executive, Andrea Young, offered her "sincere apologies" and said an investigation had begun.
The trust said it would be contacting the patients involved and offering support to anyone with concerns.
The Mail on Sunday reported that personal records of about 49 patients had been found in the street.
The report said the records included names, ages and medical histories of patients, and in some cases nurses had written that patients exhibited signs of cancer, but were "not aware" they might have the disease.
In a statement, Ms Young said: "Our first concern is for the patients affected by this and we will be telephoning them to explain what has happened and to offer our sincere apologies.
"Protecting the confidentiality of our patients is a priority for this trust and we are therefore taking this extremely seriously.
"A full and thorough investigation is now under way.
"The patients affected will be kept up-to-date with findings and have our full support if they have ongoing concerns or questions."