Cube arts venue in Bristol officially owned by volunteers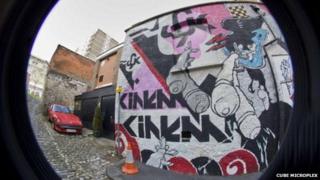 Volunteers behind an alternative arts venue in Bristol are now the building's official owners after raising nearly £200,000 to buy it in less than a year.
The Cube's 150 non-paid staff took up up their landlord's offer to sell it to them if they could raise the amount before the leasehold expired.
David Hopkinson, from the Cube, said it was "very exciting now all the documents have been signed".
He added they would now start their "long planned renovations".
'Total independence'
Mr Hopkinson said: "The Cube project has been built on the principle of being independent since it was set up by artists in 1998.
"We've never had external funding for our operations but the money from the door and the bar has only really paid the bills up until now.
"Being owned by the community rather than a private landlord means we now have total independence which will enable so many new exciting possibilities for the future."
He said the fabric of the building was old and they had been planning the renovations for some time.
The plans include a digital film projection system but they were "committed" to keeping their celluloid projectors so they can show all forms of film.
The Cube was set up by a group of artists in 1998. Their 15-year leasehold expired on 31 December 2013 and the landlord offered to sell them the building giving them less than a year to raise at least £185,000.