TRASHorfield group ends fight against Sainsbury's plan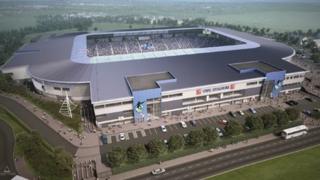 A group which has fought plans to turn a Bristol football stadium into a supermarket has ended its campaign.
For two years Sainsbury's has been waiting for an end to the legal process over its plans to redevelop Bristol Rovers' Memorial Stadium in Horfield.
Last month a High Court judge ruled against TRASHorfield's challenge over the planning permission, which it argued was granted unlawfully.
The group has now said it would not be taking its case to the Court of Appeal.
In a statement, it said it had not been able to raise the "tens of thousands of pounds necessary" to test the High Court judgment and was therefore no longer appealing against the planning decision.
Bristol Rovers is hoping to begin building its new £40m stadium at Frenchay this summer and have it ready to move into during the 2015-16 season.