Bristol's Jamaica Street Project homeless centre has £1.6m refit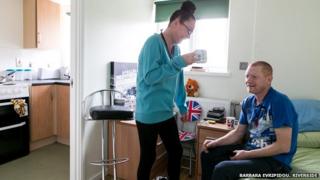 A charity's centre for homeless people in Bristol has had a £1.6m revamp.
The Jamaica Street Project used the cash to create 15 flats, 20 en-suite bedrooms, communal kitchens and training facilities at Riverside House.
It includes an IT room and space for group training sessions, while lessons on how to cook meals on a tight budget will be held in the new kitchens.
Riverside House will house 56 people, with the average stay for each person being about four months.
Paul Teasdale, from the project, said: "Where people live has a big impact in how they behave and how they relate to life.
"The old impression of the homeless hostel has changed.
"People have their own independence in self-contained accommodation, it gives them more dignity and a better quality of life."