Patients hand-ventilated twice at Bristol Children's Hospital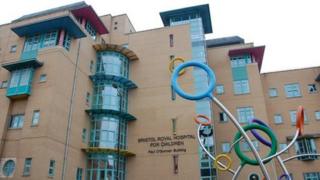 Power cuts at Bristol Children's Hospital led to staff hand-ventilating some patients in intensive care.
A hospital spokesman said back-up generators "did not kick in" when the power supply failed in November and December of 2013.
James Rimmer, from University Hospitals Bristol NHS Foundation Trust, said the incidents lasted five and ten minutes and took place during building works.
"New protocols" were now in place to ensure there was no repeat, he said.
"Unfortunately power failures do happen occasionally and it is therefore essential that we have measures in place to ensure we are prepared," said Mr Rimmer.
He said the "circuits had been temporarily reconfigured as a result of planned building work".
"On both occasions, we looked carefully at what took place and put in new protocols to ensure that the circuitry is never altered in that configuration again," he added.
The hospital was responding to a Freedom of Information request and revealed the main power supply failed three times during 2013. On two occasions there was a failure both of the main generator and back-up power source.