Bristol trainee solicitor Katy Gammon jailed for starving dog to death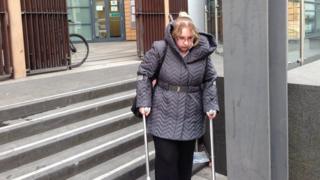 A trainee solicitor has been jailed for 18 weeks after she left her dog to starve to death in a house in Bristol.
Katy Gammon, 27, from Lawrence Weston, locked her boxer dog Roxy in the kitchen of her home with no food or water and tied the door shut with rope.
Bristol Magistrates also banned Gammon from keeping animals for life
The RSPCA said Roxy, who was found after neighbours called police because of the smell and flies, had died a "prolonged and painful death".
Gammon, of Capel Road, had left the five-year-old dog in the house for around ten weeks.
'Limited remorse'
The trainee solicitor, of Capel Road, admitted causing unnecessary suffering to the dog and failing to prevent causing unnecessary suffering to an animal.
At a previous hearing, the court heard that Roxy had "tried to desperately scratch her way out of the kitchen".
RSPCA inspectors were forced to remove Roxy's remains from the kitchen floor with a snow shovel.
Gammon had piled tins of dog food and dog treats outside the kitchen - feet away from where Roxy was locked inside.
Rod Mayall, chair of the bench at Bristol Magistrates' Court, told her: "This was prolonged neglect of a dog where she was locked in a house and left to die of starvation and dehydration.
"You have shown limited remorse. Although you were somewhat depressed, you failed to take up at least two offers of alternative housing for the dog."
'She lied'
He added: "You failed to act as any normal person would.
"This is the most serious incident of animal cruelty that we have encountered in these courts."
Prosecuting for the RSPCA, Lindi Meyer said Gammon had taken on Roxy while living with her boyfriend, in December 2012.
They separated in April 2013 and Gammon kept Roxy, but the dog was locked in the kitchen because she urinated and defecated elsewhere in the home.
In August 2013, Gammon began staying with her mother who lived a few streets away in Bristol.
She returned each day to feed Roxy but stopped when she dislocated her knee.
Ms Meyer said: "When anyone asked about Roxy, she lied and said her ex-boyfriend was looking after her."
On entering the home, officers found a length of rope rigged between the kitchen door and hooks in the hallway to keep it closed. Roxy's decomposed remains were found inside the kitchen.