Banksy's Mobile Lovers boosts Bristol museum visitor numbers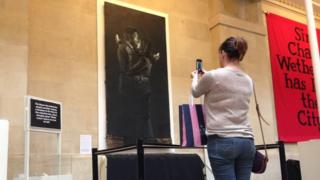 More than 10,000 people have visited Bristol City Museum and Art Gallery over the holiday weekend where Banksy's latest artwork was installed last week.
The piece, which appeared in a doorway in Clement Street last week, was taken away by the leader of the nearby Broad Plain Boys Club to raise money.
Bristol City Council argued the work was on its land and it was taken to the museum for safekeeping.
A spokesman said it had contacted the artist to clarify his intentions.
'Respectable number'
But he added, as of Tuesday morning, the local authority had not heard back from Banksy.
Dennis Stinchcombe from Broad Plain Boy's Club said he had spoken to Bristol Mayor George Ferguson about the painting.
"Obviously I still think it's ours," he said.
"Only one man can say whose it is really and that's Banksy - but when I spoke to George Ferguson he said 'honestly Dennis if Banksy was to turn round and say it's yours and Broad Plain's' he would not step in our way, which is a really nice gesture on his part."
Ray Barnett, who is head of collections at the museum, said about 3,000 people a day had been in over the holiday weekend "which is quite a respectable number".
'Starting to warp'
"We haven't had to queue people but it's been busy, a lot of people have wanted to take photographs of it. It hasn't been massive, but it's been popular," he said.
"[As to how long it stays] it's with the mayor to decide how he wants to take that forward.
"The base is quite damp so it is starting to warp so we might have to take it down to stop that happening to the artwork."
The struggling boys' club had wanted to auction Mobile Lovers to raise money to help it survive but Mr Ferguson said he believed "it belonged to the city".
A collection box has been placed next to the exhibit with a sign that Mr Ferguson is asking people to consider making a donation to the club and also asking Bristolians for their thoughts about the future of Mobile Lovers.