Bristol Metrobus scheme 'ruins' greenbelt say campaigners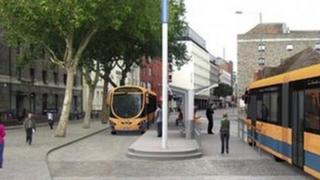 A new bus-only junction in Bristol planned as part of a £200m transport scheme has provoked anger over the loss of prime fertile land.
If approved, the junction and bridge would filter off the M32 using up land at Stoke Park and 32 allotment plots.
Campaigner and soil specialist Sarah Venn said: "The entire site is mainly grade A agricultural soil, only 3% of the country has this."
Bristol City Council says it will move the topsoil and the allotment plots.
A council spokesman said: "Bristol City Council have agreed to relocate the affected allotments to a reconfigured site using adjacent smallholding land and provide enhancements to the allotment site.
"As well as relocating all topsoil, the council will upgrade allotment facilities.
"The National Association of Allotment and Leisure Gardeners have also been consulted with and have agreed to the changes to the site."
'Can't move soil'
A total of about 21,528 sq ft (0.2 hectares) would be used up in the scheme, from the Stoke Park estate, which is about 296 acres (120 hectares).
This would be in addition to the allotment spaces.
Ms Venn, a member of Incredible Edible in Bristol, has a plot at Stapleton Allotments, which would be affected.
She added: "That level of soil is so important, when you grow on it, it withstands different kinds of weather so if you get loads of rain like the winter the soil can manage that level of wetness.
"You can't move soil - soil relies on the bedrock to maintain the level it is at."
Bristol North West MP, Conservative, Charlotte Leslie, has also raised concerns about the lack of consultation with local groups, along with Lockleaze councillor, Liberal Democrat, Sean Emmett.