Bristol Somali activist helps community to vote in Euro elections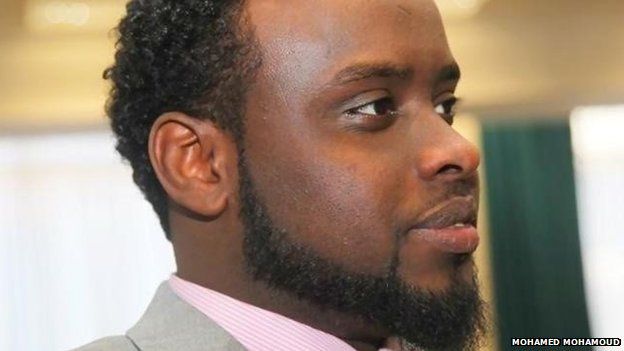 British Somali Mohamed Mohamoud is a man on a mission for democracy. He wants to get as many people as possible in Bristol's Somali community registered to vote in the European elections.
Over the past two years the community organiser and activist has been out and about in east Bristol where most of the city's 10,000 Somalis live.
So far he has helped more than 1,000 potential voters to register - his aim is to get that up to 3,000 in time for next year's general election.
This year he's concentrating his efforts on the European elections taking place on 22 May.
He said Somali businesses had contributed to the regeneration of the area since that notorious headline almost five years ago.
Speaking to him in one of the many Somali-run cafes on Stapleton Road in Easton, he explained why he thought it was important for his community to take part in local democracy.
He said: "Back home [in Somalia] people never used to have a vote because it was a dictatorship and here people think voting won't make any difference.
"I want my people to be part of British society and exercise their right to vote. Decisions made in Brussels - they affect us all."
Confusion about eligibility to vote, the language barrier and voter apathy - which affects all nationalities - all contribute to people not signing up which everybody is required to do by law.
"Some people have the language barrier so we educate them about the electoral process and show them they can make a difference and elect whoever they want," he said.
Somali culture has a strong oral tradition so he invited popular London-based Somali musician and singer Nimco Dareen to Bristol last year. This event was especially popular with women and attracted an audience of 400.
He smiled and said: "The event was free - but in order to get in, people had to fill in an electoral registration form - that was their ticket."
He also says he ensures women are registered by going to shops, cafes and school playgrounds to speak to them.
Somalia has been in conflict since 1991 when its central government collapsed. Mr Mohamoud is one of the many tens of thousands of Somalis who left and are now part of a growing diaspora across the world.
Asked why Somalis should care about voting in the European elections he said: "We want to get the right people into Brussels.
"People don't just come here from Somalia, many come here from European countries like Sweden or the Netherlands.
"In just one Somali family - because everyone is escaping - you can see four different nationalities - for example, Danish, Swedish, British and Dutch.
"They think Britain is more tolerant to practise religion and it is easier to open businesses like cafes and shops here."
Somali National Television - whose HQ is in Mogadishu - has a base in London and opened a studio in Bristol last month.
Mr Mohamoud is recording a public service announcement to be broadcast 10 days before the European elections, encouraging those registered to get out and vote.
He left Mogadishu in 2001, when he was 17, and arrived alone in London with "very little English".
He moved to Bristol in 2004 and studied at university for a degree in biological sciences, and has now settled in the city and is married with three children.
Qualified aircraft engineer Abdi Aziz helps Mohamed in his spare time. He left Somalia at the age of 11 and initially settled in the Netherlands before moving to Bristol.
Mr Aziz said: "We live in the UK and have to know what we have the right for and what is good for us as a community.
"Not only for today, but tomorrow - for our kids - we have to look forward."
Volunteer community worker Yusuf Salah said the issues facing Bristol's Somali community included education, housing and employment.
Mr Salah said: "England is a part of Europe. It's very important because we live in this country - to vote the right party in to provide services for the community.
"We bring diversity, business, taxi drivers, bus drivers and small businesses."
Mr Mohamoud is chair of Bristol-based organisation Act for Somalia, which he co-founded in 2011, and which aims to "campaign, advocate and educate the Somali community, both in Bristol and back home in Somalia, about civic engagement and democracy".
He said: "And now I want to give something back. Britain welcomed me and gave me the opportunity to live here and be part of British society.
"I want to give something back to my community so they can be proud British citizens. I want them to be part of this society and to integrate better into Bristol life."
Related Internet Links
The BBC is not responsible for the content of external sites.