Great Western Air Ambulance replacement planned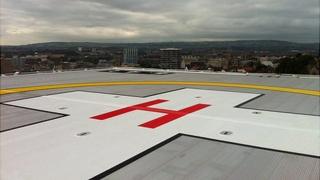 An air ambulance unable to use a new Bristol hospital helipad will be replaced later this summer.
The Great Western Air Ambulance (GWAA) lacks the power to take-off from the helipad at Bristol Royal Infirmary, which opened on Wednesday.
The helicopter currently lands at a site on the Clifton Downs - a 1.6 mile (2.5 km) drive from the hospital.
The charity which operates the helicopter said it had managed to raise £250,000 to lease a new helicopter.
The GWAA is the last air ambulance charity in England to rely exclusively on the Bölkow Bo105 helicopter.
'Maximise fund raising'
But to test land at the BRI's new £3m facility, the charity had to strip out all of its kit and have just one crew member onboard its current 1960s helicopter.
"It's old and hasn't got enough power," said Emma Carter, the charity's fund raising manager.
"But we've managed to raise £250,000 to secure an EC 135 helicopter for six months, which will be with us in late summer."
The new helicopter, according to the charity, will not only be able to land on elevated helipads but reach patients four minutes faster and allow a mother and child to fly to hospital together.
"The Bölkow is also rear loading and it can take 15 to 20 minutes to load a patient but with the EC 135 you can just slide the patient in," added Ms Carter.
"But now we really have to maximise our fundraising because our current helicopter costs £1.5m a year to run, while the new one will cost £2m."
The new platform, which serves six air ambulance providers, will also be linked to the adult emergency department at the BRI, the neighbouring Bristol Children's Hospital and the nearby Bristol Heart Institute.