Banksy's boy's club Bristol gift 'could fetch £500K'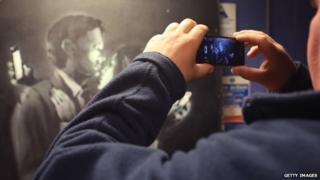 A piece of Banksy street art which was at the centre of a tussle between potential owners could be worth up to £500,000, an auctioneer has said.
The Mobile Lovers piece appeared in a Bristol doorway last month, but a row broke out over who owned it.
However a cash-strapped boys' club nearby has now received a letter from Banksy saying it is theirs.
When the piece was first discovered the boys' club manager, Dennis Stinchcombe, said selling it would raise vital cash.
Dreweatts and Bloomsbury Auctions believes the artwork could fetch between £300,000-£500,000 if sold.
But James Butterwick, an art advisor to wealth consultants the Oracle Capital Group, said the piece could raise a lower £100,000.
Other auctioneers including Bonhams, Christie's and Sotheby's declined to suggest a price it could sell for.
Angus Maguire, head of modern and contemporary art for Dreweatts and Bloomsbury Auctions, said: "It's a big size and a new and unique image - that makes it incredibly interesting to collectors.
"But more than that you've got this amazing provenance, this story that has already evolved about this particular artwork.
"So there's three factors - a new breed of avid collectors, a unique image and this incredible provenance - and these three factors must produce a spectacular result if this work ever came to auction."
The elated Broad Plain Boys' Club has welcomed the twist with open arms, as only a month ago it was appealing for £120,000 to change its "very bleak" future and the imminent threat of closure.
Mr Stinchcombe, who believes Banksy is a supporter of the 120-year-old club due to his own childhood experiences, claimed he had already received an offer of £1m for the Mobile Lovers piece.
Meanwhile it remains safe and on display at the Bristol Museum and Art Gallery.