Bristol Rovers 'war memorial ground' bid rejected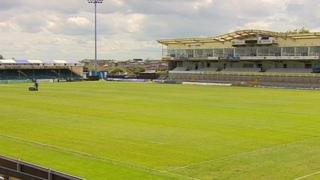 An application to list the home of Bristol Rovers FC as a war memorial has been rejected by English Heritage.
The stadium in Horfield is being turned into a supermarket with the sale financing the club's desire to build a new £40m stadium at Frenchay.
But applicant Jamie Carstairs said the redevelopment was "shameful" for the city and a "failure of imagination".
English Heritage has advised the ground does not have the architectural or historic interest to merit listing it.
Last week the football club's chairman said he was frustrated with "another delay" caused by this application but still hoped building work would begin on the new UWE [University of the West of England] Stadium this summer.
There has been a two-year legal battle over Sainsbury's plans to redevelop the Horfield site, releasing Bristol Rovers' to build its new 21,700-seat stadium.
The large gates to the stadium, which date to 1921, are currently listed by English Heritage. They include inscriptions which pay tribute to the rugby and football players of Bristol who served during both World Wars and say the ground is a memorial to them.
'Memorial destroyed'
However campaigner Mr Carstairs argues the entire ground should be officially recognised as a war memorial.
"Bristol is a great city with a great past and with many interesting and sometimes under-cherished buildings and social spaces," he said.
"As the country commemorates the centenary years of the Great War it is shameful that Bristol is about to destroy a very special war memorial."
English Heritage said it had carefully considered the application but the Department for Culture, Media and Sport had agreed it does not hold national interest.
It said the decision was based on the lack of survival of the original stand of 1921 and the fact that the replacement stands dating from the late 1930s onwards do not display sufficient levels of innovation in their design or the architectural interest necessary to merit listing.