Operations cancelled at Bristol's new Southmead Hospital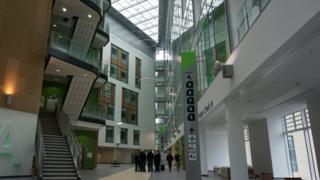 Operations at Bristol's new Southmead Hospital have been cancelled because operating theatres are not ready.
The new £430m hospital is due to officially open in the next week, with patients and staff being moved in during the past month.
North Bristol NHS said adjustments needed to be made to a "high-tech air flow system" which helps to eliminate infection risks.
The Bristol Post reported that 180 operations had been cancelled in total.
Medical director Chris Burton said: "We only reschedule operations when it is absolutely necessary and apologise to any patients who have been affected.
"Anyone who has been affected has been personally contacted to inform them of the changes to their operation.
"There was always going to be a phased process in opening the new theatres and fewer planned operations were scheduled for this period.
"We have continued to use operating theatres in [the old] Southmead and Frenchay Hospitals as the move has taken place to minimise the impact whilst getting the new theatres open."