Charlotte Leslie MP criticises police over Bristol arson attacks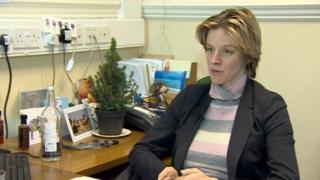 A Conservative Bristol MP is calling on the police to link a number of arson attacks across the West region.
Yate Magistrates' Court, a military base in Clifton and the new police firearms training centre in Portishead, are three of the buildings targeted.
Charlotte Leslie said police should be upfront about linking the incidents and more open about the investigation.
Avon and Somerset Police said it was treating the matter seriously and retained an "open mind" about any link.
Ms Leslie's comments follow a recent Mail on Sunday about a possible Bristol bomber, following attacks over the past three years.
She said: "I do think more effort needs to be taken now to link these [incidents] and start to get to the bottom of what looks very much like an ideologically-based series of criminal attacks."
'Layman onlooker'
She added "a layman onlooker" would look at the situation and say the police had been slow to link the attacks and was concerned that if they continued, could become "contagious".
A group calling itself the Informal Anarchist Federation has claimed responsibility for some of the attacks on websites such as Indymedia.
TV, radio and mobile phone masts have also be destroyed in arson attacks.
Cars belonging to former Lord Mayor of Bristol Geoff Gollop and Conservative councillor Kevin Quartley were set on fire outside their homes in 2011.
Det Supt Rachael Williams of Avon and Somerset Police said the force was treating the matter "very seriously" and it was "thoroughly investigating" the attacks.
"We don't want to jump to any assumptions without the evidence there to link them correctly," she added.