Law graduate Rhiannon Brooker convicted over false rape claims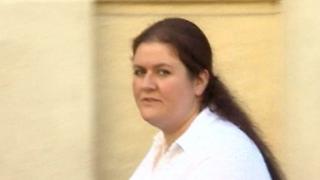 A law graduate who falsely accused her boyfriend of rape has been found guilty of perverting the course of justice.
Rhiannon Brooker, 30, claimed Paul Fensome, 46, forced her to have sex and also caused her to miscarry. Mr Fensome was held in custody for 36 days.
Brooker, from Frampton Cotterell, used the allegations as an excuse for failing her legal exams, Bristol Crown Court was told.
She was found guilty of 12 charges related to five false rape claims.
Brooker also lied about six assaults and a claim of false imprisonment.
The Birmingham law graduate claimed Mr Fensome caused a miscarriage by punching her in the stomach.
Speaking after her conviction, Mr Fensome, said he hoped Brooker "experiences what I had to experience in prison".
"Anything less than four years and she has got off lightly," he said.
But he urged any woman who is a victim of a sexual offence to report it to the police.
"My heart goes out to anyone who has been raped or assaulted.
"My dad always told me never to hit or rape a woman and that's what I live by," he said.
'Calculating and manipulative'
During the eight-week trial jurors were told Brooker falsified the allegations because her lifestyle led her to fail her bar assessments.
Mr Fensome, a Network Rail signalman from Birmingham, was charged and held in custody for 36 days before police realised there was no evidence against him.
Jurors failed to reach verdicts on eight charges and were discharged by Judge Julian Lambert.
Speaking outside court, Ch Supt Sarah Crew said Brooker proved to be a "very calculating and manipulative" woman.
"Like many other people who encountered her in a professional capacity, we too were initially taken in by her allegations."
Brooker, who was released on bail, will be sentenced on 26 June.