MV Balmoral returns to Bristol after Sharpness survey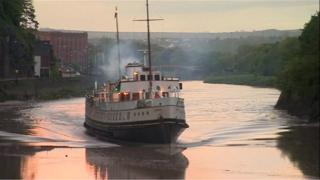 A vintage pleasure cruiser is returning home to Bristol later following seaworthiness checks in Gloucestershire.
The Balmoral - built in 1949 - is sailing back to Bristol harbour from Sharpness Docks where a full dry dock survey has been carried out.
The work included extensive ultrasonic tests carried out on the ship's hull.
Following the survey, repairs were made to the hull and machinery to ensure they are sound and structurally safe.
'Tremendous support'
Balmoral Fund Ltd is working to raise £350,000 for the ship's full restoration, and used £150,000 already raised on this first phase of repairs.
"Lovers of this fine vessel have been tremendous in their support. Real progress has been made," said Paul Doubler of the company.
"To have started from scratch and raised the money to pay for her dry docking and repairs is quite some achievement."
Subject to further funding for the next phase of repairs, the company hopes to published a full sailing programme for 2015.
The ship carried almost 20,000 passengers in its 2012 season.
The Balmoral, which is a member of Britain's National Historic Fleet, offered day trips and evening cruises around the Somerset coast and also sailed to Lundy Island in the Bristol Channel.
The vessel is expected to return to its usual berth outside MShed in Bristol's Inner Harbour on Sunday after docking overnight in Avonmouth.