Colston Hall could ditch Bristol slave trader's name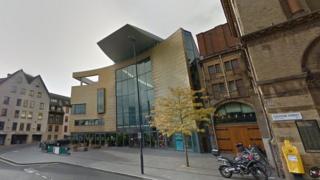 A Bristol concert hall that shares its name with that of a 17th Century slave trader is considering a name change.
Colston Hall bosses say the venue was named after the street it is on rather than Edward Colston.
Chief Executive Louise Mitchell, said: "We will be thinking very carefully about what we should call our new facility."
The proposal comes as fresh calls were made over why Bristol has places bearing the slave trader's name.
'Evil deeds'
Ms Mitchell added: "I think the time has come to do that and I think a time has come to put this matter to rest.
"I think we should be looking to enhance the cultural life of our city rather than harking back to things which clearly are reprehensible, which none of us can condone."
A venue spokesperson added the name change was a long-term discussion as part of an ongoing fundraising campaign to build a new auditorium.
Edward Colston invested in a slave trade company for 11 years and was an active slave trader.
He also gave money to charitable causes across Bristol.
But there has been ongoing controversy about how he is remembered in Bristol due to his slave trade past.
A statue of Colston has an inscription, describing him as "virtuous and wise" without reflecting his role in slavery.
The issue has been reignited after former journalist, Mike Gardner, wrote to the Guardian questioning why Colston was celebrated in Bristol.
Mr Gardner said: "They're never going to rename everything, that's not possible, but on the statue there should be something that would at least acknowledge his role in the slave trade and the evil deeds he did."
Bristol City councillor Simon Cook said: "We should celebrate the diversity of the city which makes the city so vibrant and move forward from this issue."
The council has said it was not aware of any plans to change the inscription on the statue or any plans to reflect the city's link with slavery.