Plans for £6m Bristol surfing lake approved by planners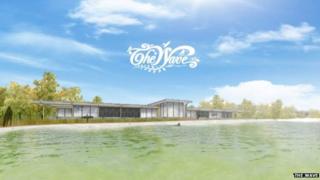 Plans for a man-made surfing lake near Bristol have been passed by South Gloucestershire Council.
The £6m The Wave: Bristol, one of the first of its kind in the country, will be built on greenbelt land outside Easter Compton in Almondsbury.
The attraction will be subject to approval by the Secretary of State.
Olympic snowboarder Jenny Jones spoke at the planning meeting and gave her support to the project, which was approved by nine votes to one.
Nick Hounsfield, chief executive of The Wave, the company behind the idea, said he felt "relief, disbelief [and] utter excitement" at the decision.
"Really relieved. Partly for myself but partly for all the people that have helped us get this project to where it is at the moment," he added.
Mr Hounsfield said he believed the project could "really inspire" the next generation, while delivering "so many social benefits".
He also praised the council's "vision" in seeing the possibilities the 2,790 sq m (30,000 sq ft) attraction could offer.
Local people had been concerned about access to the site and how it would affect traffic.
Richard Jones, parish councillor for the Almondsbury area, said nearby roads were "already very busy".
Speaking at the meeting, Ms Jones from Downend said she believed the lake "could provide a great facility" for adults and children.
"Just to be exposed to a sport that they might not be, and to carry that sport throughout their entire life," she added.
According to The Wave's website, the "centrepiece" surfing lake - which will use Wavegarden technology to create the "world's longest waves" - will be suitable for both professional surfers and beginners.
Around the lake will be a natural swimming lake and multifunctional gardens including an activity garden, barefoot trails, a sensory garden, healing garden, culinary garden, herb gardens and foraging areas.
Mr Hounsfield told the BBC he was "pretty confident" that the lake would be approved by the Secretary of State, with work beginning by next year.