Bristol Zoo giant tortoise treated for 'sinusitis'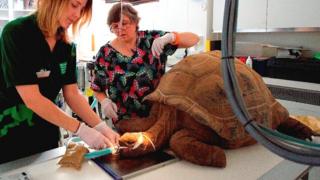 A giant tortoise has been checked in to an on-site clinic at Bristol Zoo after developing the symptoms of sinusitis.
Helen, a 90kg (14 stone) tortoise, was given a health check after keepers noticed her unusual breathing.
Staff vet Richard Saunders said: "The whistling, raspy breathing in her nose could be heard from several feet away, so we took samples under anaesthetic."
The 32-year-old tortoise, described as a "good patient" by Mr Saunders, is currently on a course of antibiotics.
Helen is an Aldabran giant tortoise - a species classified as "vulnerable" - and has been at Bristol Zoo for 11 years.
But after developing a nasal infection, the tortoise had to take a trip to the vet for a nasal flush, tests under anaesthetic and a course of antibiotics.
"Tortoises don't cough, so they can't expel stuff from their lungs but this was an upper respiratory infection, more like sinusitis," said Mr Saunders.
"The procedure took about 45 minutes and her recovery was in a lovely warm underfloor-heated sandpit.
"She's a good patient and is taking her tablets lined up in a stick of celery, which hides the pills and the taste, so she's doing well."
Giant tortoises can live up to 150 years old.
The Aldabran giant tortoise is the only surviving giant tortoise species from the islands of Aldabra and the Seychelles in the Indian Ocean.