Row after GCSE coursework at Bristol's City Academy 'lost'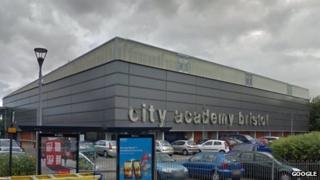 An academy which lost a pupil's GCSE coursework offered his father £371 compensation on the condition he does not speak publicly about it.
Darren Rivers was ungraded for his business studies GCSE because Bristol's City Academy did not submit coursework - which counts for 50% of the marks.
The mistake came to light when the exam board could not grade Darren.
Principal Gill Kelly said the confidentially clause was "appropriate".
She would not comment further.
Darren's father Steve Rivers said the academy offered him the cash to compensate him for taking time off work to come in for meetings.
He said he was not interested in the money.
He said he tried to contact the school by telephone to find out what had happened.
"I was pushed from pillar to post... it wasn't till I went to the school and refused to leave the building that I got a meeting," Mr Rivers said.
"As soon as they knew they'd lost the coursework... why didn't they ring and we'd have been quite happy to work with them to sort it out."
'Strictly confidential'
Chairman of governors John Laycock said the academy had been acting on legal advice and said he was not prepared to comment further.
The letter making the offer "in full and final settlement", also said City Academy would arrange for Darren to study for and re-sit the exam at its expense.
It added that as a "condition of the offer" Mr Rivers and his family must agree to keep all matters raised with the complaints panel "and the fact and contents of this letter strictly confidential".
Independent lawyer Andrew Gregg, from Gregg Latchams, said the letter, signed by Mr Laycock, was "most unusual" given the circumstances.
"It's clearly been drafted by a lawyer - it's in lawyer speak - and I think it is clearly inappropriate for a case like this," he said.