Arts Council gives £1m to Bristol music venues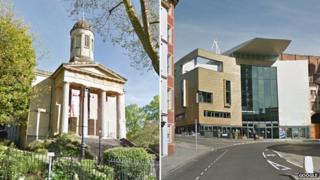 Two music venues have been given almost £1m to collaborate on promoting music more effectively in Bristol.
Bristol Music Trust, the charity which runs Colston Hall and St George's Bristol, will jointly be given £975,000 by the Arts Council over three years.
According to the partnership, it is the first time the council has recognised music in the city "in this way".
The money will be used for special projects, such as "flagship" concerts, joint festivals and growing audiences.
'Significant change'
Suzanne Rolt, director of St George's Bristol, said: "Bristol has already been named the UK's most musical city and this award will allow St George's and Colston Hall to work together to contribute even more to the live music scene.
"It will benefit both professional and amateur musical talent and create new, imaginative series and festivals for people of all ages to enjoy."
In addition, Louise Mitchell - the chief executive of Bristol Music Trust - said the funding would see a "significant step change" in their ability to "make a real difference".
Elsewhere in the city, the Arts Council has cut funding to the Arnolfini arts centre by 27%, bringing its annual grant down to £750,000.
The gallery, which attracts almost 500,000 visitors a year, said there would have to be some changes but its future was not under threat.
"We are working hard to ensure we have operational efficiencies in place that mean we do not need to compromise on the quality of our programming and the visitor experience," added a spokesman.
"There will have to be some changes, but what they are needs to be reviewed and discussed with all stakeholders."