Bijan Ebrahimi murder: Family desperate for answers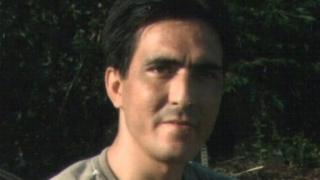 The family of a man who was wrongly branded a paedophile and beaten to death say they "can't wait any longer" for a police watchdog inquiry to end.
Bijan Ebrahimi's body was also set on fire near his Bristol home. He had made repeated calls to the police for help.
Files on three police officers and a community support officer were sent to prosecutors last week.
His sister, Manisha Moores, said it was "agonising waiting" for an outcome. Two men have been jailed for the killing.
Lee James, 24, who admitted Mr Ebrahimi's murder in July 2013, was jailed for a minimum of 18 years last November.
Stephen Norley, who admitted assisting an offender, was jailed for four years.
'Unimaginable pain'
The Crown Prosecution Service (CPS) is currently deciding if charges should be brought against three Avon and Somerset police officers and a community support officer who dealt with Mr Ebrahimi.
The Independent Police Complaints Commission (IPCC) is also investigating the actions of six other police officers and six civilian staff.
"It's really hard and unimaginable pain we're going through every day, to find out what's happened," said Ms Moores.
"We were promised by the IPCC the result would come out by the end of July, and we're hoping to see results by the end of July."
Bristol City Council, which housed Mr Ebrahimi, also launched its own case review which was due to be complete at the end of last year.
"There is not a moment we forget what happened to Bijan, and we just go through it over and over," said Ms Moores.
"It's agonising waiting - if anyone should know, it's the family, and it's our right to know what has been said."